Huntersville Yoga Workshop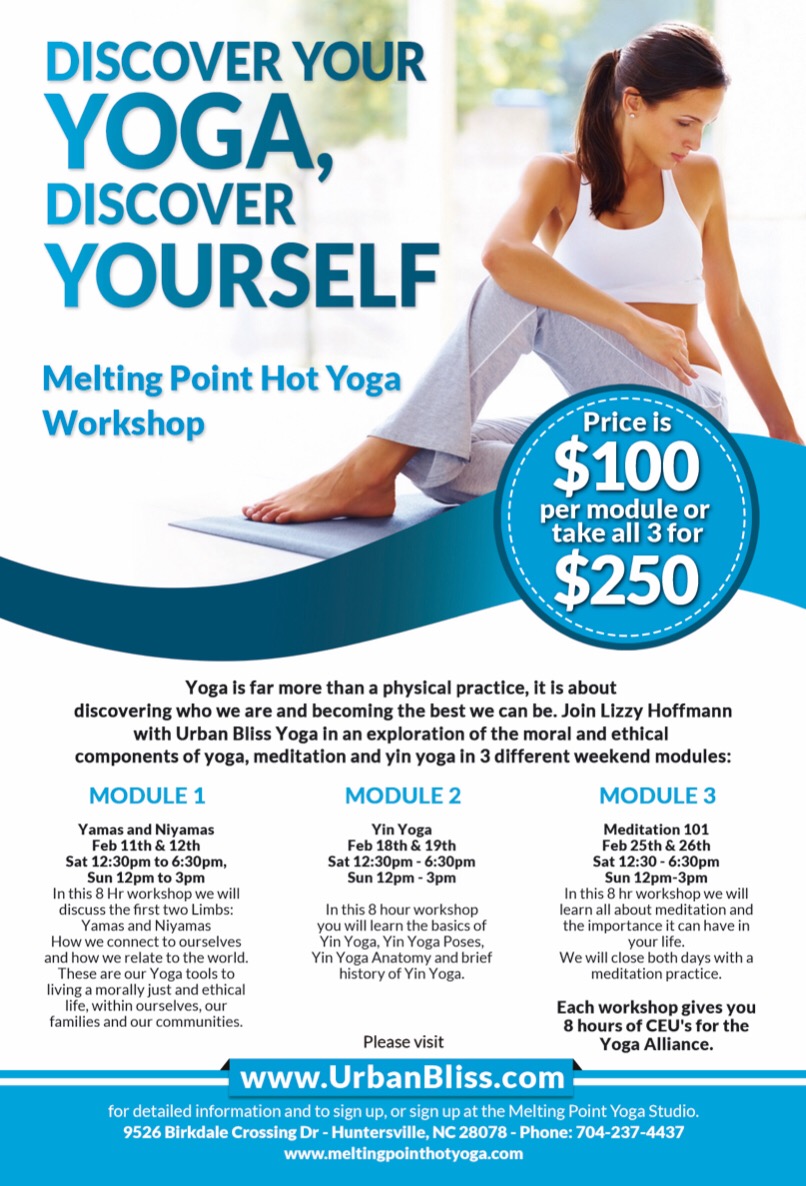 YIN YOGA TEACHER TRAINING
Please click to see the Yoga Training Calendar for up to date yoga workshops in your city.
The Urban Bliss School of Yoga Yin Yoga Teacher Training is designed to expand your knowledge into the "Yin-side" of yoga. Unlike the Yang styles of Yoga, like Hatha or Vinyasa, which focus on the contracting and lengthening of the muscles, Yin Yoga targets the connective tissues, such as the ligaments, bones, and joints.
This specialty Yin Yoga Teacher Training Certifiation will be an invaluable tool to benefit your students.
About Yin Yoga:
Consisting of approximately 30 poses, Yin Yoga is a compliment to the current styles of yoga that we know and practice. Yang styles offer highly energetic movements. By comparison, Yin is a slower paced, intensive asana practice where connective tissue is engaged in a passive nature rendering a calming and soothing effect on the practitioner.
Click for more details about our Yin Yoga Teacher Training
RESTORATIVE YOGA TEACHER TRAINING
The Urban Bliss School of Yoga's Restorative Yoga Teacher Training provides the tools necessary to assist students with physical conditions and limitations, as well as assisting those in need of stress relief. In this busy world, we rarely have time to stop and relax; this could bring about many physical, emotional and spiritual ailments. Restorative Yoga is mainly practiced lying down, sitting, or supported by a wall. Each restorative asana brings about a sensation and experience of deep relaxation by using props to support the body. This leads to benefits that include the reduction of blood pressure, blood sugar levels in the blood, the increase of good cholesterol in the body, as well as improvement in digestion, fertility, elimination, the reduction of muscle tension and insomnia.
Click for more details about our Restorative Yoga Teacher Training